Summer Shows to See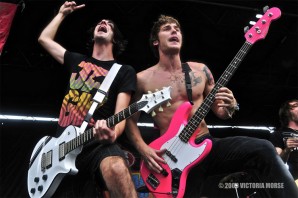 Victoria Morse via Flickr
Amanda Laskowski, Staff Reporter
May 15, 2012
Filed under Arts and Entertainment, Music
Summer's right around the corner, and that means no school and a whole 84 days of nothing to do! And what better way to spend some of that time than at a concert? Summer means it's time for all of those summer tours and music festivals. These events are great ways to spend time with your friends, see your favorite bands and artists, as well as ones you've never even heard of, and great ways to make memorable experiences.
When I think of summer, one thing comes to mind, and that's "Warped Tour."  Vans Warped Tour is a tour held every summer that travels the U.S. showcasing bands and artists from different genres such as metalcore, deathcore, pop punk, indie rock, rap, reggae, alternative, and punk. It offers opportunities to see tons of different bands in one day for the same price as a regular general admission show! Warped Tour is usually at larger venues such as stadiums and amphitheaters with multiple stages set up inside and in the parking lot of the venue. There are tents set up everywhere for artists as well as clothing companies, magazines, and record labels, and at these tents you are able to purchase CDs, merchandise, and meet the band. You're also able to meet your favorite artists on a personal level at meet and greets as well as get a ton of free stuff. Junior, Anna Kawka says, "I think Warped Tour is definitely worth going to because it's such a memorable experience. Its a different vibe from normal indoor concerts. You're in a big open lot, not some enclosed building. you're free to roam. You could just be walking around and you could randomly bump into someone from your favorite band."  This year, Warped Tour features headlining acts All Time Low, We the Kings, Taking Back Sunday, New Found Glory, The Used and more. No matter if you see one band or seven bands, are in the front or the back of the crowd, I guarantee Warped Tour will be a once in a lifetime experience. Warped Tour hits Chicago on July 7th at the First Midwest Bank Amphitheater in Tinley Park. For a full list of bands and tickets visit Warped Tour's website here.
Another music festival that takes place every year in Chicago is Lollapalooza. Lollapalooza features popular alternative rock, heavy metal, punk rock and hip hop bands, as well as dance and comedy performances. While Warped Tour takes place all around the United States, Lollapalooza only happens in Chicago. It takes place over a three day period in Grant Park in downtown Chicago and this year's dates are August 3rd through the 5th. This music festival also gives you the opportunity to experience as many bands as possible, whether it be ones you've never heard of or your favorites. Since it's general admission, it also gives you the opportunity to get as up close and person as you can with these musicians. Not only is Lollapalooza a great experience because of the music, but because of the surroundings as well. Surrounded by Lake Michigan, the Chicago skyline, thousands of people, and tons of food, it allows you to enjoy the festival only offered in Chicago with people who share the same musical interests you do. This year's Lollapalooza lineup includes the Red Hot Chili Peppers, The Black Keys, as well as Fun. and Florence + The Machine. For tickets and the full lineup go to Lollapalooza's website here.
Big music festivals not for you? Well then check out some smaller venue tours hitting Chicago this summer such as William Beckett's Walk the Talk Tour. William Beckett (ex-The Academy Is..) is a musician from Barrington, Illinois who is currently on tour in support of his debut solo EP, Walk the Talk. Beckett was formerly in a band that was similar to bands such as Fall Out Boy and Cobra Starship and his last stop of tour is May 29th at Schuba's in downtown Chicago. Going to a concert at a smaller venue has a lot of pros, such as being able to meet the musicians after the show and there's never a bad place to stand and watch, there's also the fact that the energy is great because everyone is packed together enjoying the music experience. For other concerts and festivals coming to Chicago this summer, you can visit this website for a list of upcoming tours at all sorts of different venues.