The Girls of the Garden Club Opening Night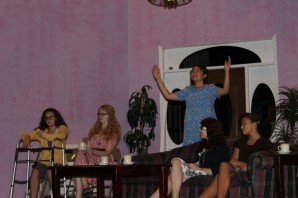 David Heusel, Staff Writer
October 12, 2012
Filed under Fine Arts Spotlight
This year's fall play, The Girls of the Garden Club, which includes a cast of 25 student actors, will be directed by East Leyden counselor Bill Mitchell.
Mr. Mitchell is directing his first student performance, but he has a lot of experience in theater production as a high school student.
"I was in theater when I attended Glenbard North H.S. I was in Funny Thing, Auntie Mame, Whose Life is it Anyway, Bleacher Bums, and I was Harold Hill in The Music Man," Mr. Mitchell said. "I auditioned for Two Gentlemen of Verona, the All-State show in 1982, and Grease, the international show in the summer of 1982. I was decorated as Best Thespian at the end of senior year."
Along with his acting experience, Mr. Mitchell did help out with other aspects of the shows. He added that, "I also did advertising for most of the shows."
Here at East Leyden, Mr. Mitchell has taken in part in so many activities, such as hosting the Fern Awards, the Exceptional Eagles, and annual Blood Drives, that he never had time to direct one of Leyden's productions.
"For the last few years he [Vic Pilolla] has asked me to direct. He didn't even know then that I was in theater. But I had a full plate so I kept pushing him off," Mr. Mitchell said. "Until last May, when Ms. Reynolds, who was supposed to direct the fall show, had to pull out. Vic came to see me and I was eager to step up."
With all of Mr. Mitchell's experiences in hosting various school events, Mr. Pilolla felt that Mr. Mitchell had the ability to successfully handle directing a school play.
Mr. Mitchell is eagerly looking forward to opening night. He adds, "I'm looking forward to seeing how the show matches what I envision in my head."
The show is "a comedy full of laughs and great character parts!" Mr. Mitchell said. "This show is about a coup d'etat in a local Garden Club. Rhoda Greenleaf is conspiring to overthrow Lillybelle Lamont as president so that she can get her husband to agree to putting up a greenhouse."
Yet, getting a big cast like this to work together has had its challenges.
"Theater at Leyden is a bit different from my experience. The kids are SO busy and it is tough to get the full cast together. It took us three weeks just to block two small scenes because the minor parts had major obligations," he said.
Cast members had their own obstacles they needed to face.
"The most challenging part so far is memorizing my lines, and saying them right," junior Kaina Arias said.
"Learning french" has been a hard thing for junior Margaret White. White's character has lines with several little French phrases.
Despite their trials, there have been many good experiences for both Mr. Mitchell and the cast.
"The cast has been great! They are very talented and bring a lot of energy to the production. I am learning from them just as they are learning from me," Mr. Mitchell said.
White added how the show has "really made me get out of my comfort zone acting wise and it is really challenging me [in] learning lines. Not only with the time restriction, but the new language I have to learn."
For Arias, the experience of taking part in this production has been positive because, "it has given me more confidence in anything I do."
The show opens on Friday, October 12 at 7 p.m. in the East Leyden Auditorium and will run Oct. 13th, 19th, and 20th as well. Tickets for the show are $3 for adults and $2 for students and will be sold at the door.