British Musician Ed Sheeran's U.S. Tour Stops in Chicago
Emily Chiu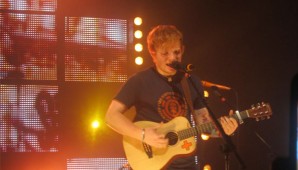 Emily Chiu
Emily Chiu, Staff Writer
October 3, 2012
Filed under Music
On September 25, 2012, musician Ed Sheeran had a sold out show at The Riviera Theater in Chicago.
Junior Alana Shanley, from East Leyden, attended the concert and was impressed.
"The concert was REALLY good. The energy was really good and he was really good live."
Most notably, Sheeran was able to connect with the crowd through his music and having the audience sing along with him to create harmonies within different parts of the crowd.
The sold out show left some longing to join the thousands of screaming fans.
Senior Elissa Segura was one of the many unlucky fans.
"I was devastated. I was so upset," she said.
Segura found out about Sheeran through a boy band and Shanley found him through YouTube. Both say their favorite song is "Give Me Love".
Even though Segura wasn't able to attend this concert she hopes to get tickets to his upcoming shows in 2013.
"Without a doubt. I swear if he comes I'm getting tickets," she said.
Shanley added, "Definitely. If he comes next year I'm going."
Singer/songwriter Ed Sheeran started pursuing his music career at a young age and broke out commercially in June 2011 with his debut single "The A Team". Sheeran has won six awards and has been nominated eleven times in British award shows throughout his career.
Sheeran also performed at the closing ceremony for the 2012 Olympic Games in London performing a cover of Pink Floyd's "Wish You Were Here".
Being that Sheeran lives in the UK, fans will have to wait to see him live next year when he revisits the US for his 2013 headline tour.