Leyden Students Explore Their Creative Talents Through Writing Club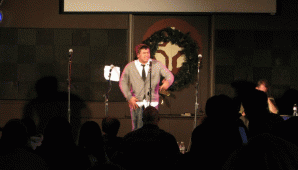 Frank Scalero
Amanda Brown, Staff Writer
October 9, 2012
Filed under Student Life
The Creative Writing Club gives students a chance to express themselves through their writing. They perform their writing at all types of competitions throughout the year.
Mr. Frank Scalero, the club's adviser, mentioned that the students have created pieces that reveal what's in their hearts.
"I joined the club because I wanted to discover myself as a writer and commit to something that I wanted to grow in and develop a passion for,"  senior Jeremy Mercado, president of the Creative Writing Club said.
This club is meant for all kinds of students.
"I want to improve my writing skills, have fun, and get my voice heard" said senior Rebecca Strauss, a member of the Creative Writing Club.
Creative Writing is not a new club, it actually has been around for some time even before Mr. Scalero was here. The club used to exist years ago with former English teacher, Dr. Masters. Then when Mr. Scalero came around, Dr. Masters told Mr. Scalero that he should do it.  So, Mr. Scalero brought back the Creative Writing Club.
He added that he enjoys two things most about his club: "when a light bulb goes off in the kids head and when students take center stage."
The main event that comes up every year for the Creative Writing Club is "Louder Than A Bomb". It's a week long celebration that ends with students coming to Leyden to sit back and watch the movie "Louder Than A Bomb".
"I look forward to Louder Than A Bomb…which is the biggest poetry event in the world. It is held at Columbia College and poets and teams come from the Chicagoland area and suburbs and slam in bouts to see what team comes out on top. Over 80 teams come out. And to win is a big dream…not everyone can accomplish," Strauss said.
But she goes on to add that, "it's not about the points…or winning. It's [about] the poetry."
Students enjoy multiple things in this club, and many of these things will help them grow into more of a writer then the writer they already are now.
The members of the club are very involved with their writing and all the competitions they attend. But for many, Mr. Scalero is the major driving force.
"Mr. Scalero is the one of the main reasons I am where I am today in method, skill, and craft. Since my sophomore year he has pushed me and, as iron sharpens iron, he [Mr. Scalero] has sharpened me. I am who I am because of him and his consistency and the chances he has given me to excel and move forward as an individual with him watching me grow day by day. And I am inspired to write when I reach different seasons in my life and experience and see new things changing in me and the world I live in," Mercado said.
Mr. Scalero encourages students to publish this year and he adds that "writing is a desperate endeavor."  He stresses that what's really important is that most of us desperately need to write.
So, his advice for writers who want to have great pieces is that good writing is about "the imagery used, the strong verbs , the specific language, the extended metaphors. These things really help it leap off the page," Mr. Scalero said.
The club meets every other Monday from 3 to 5 p.m.  Students who are interested are welcome to come to a meeting to get more information.