A Brief History of Sweetest Day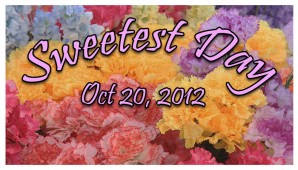 Emily Chiu
Emily Chiu, Staff Writer
October 18, 2012
Filed under Student Life
This Saturday, October 20, will be Sweetest Day. East Leyden's very own Junior Class Board sold carnations to celebrate this holiday.
This holiday started in Cleveland on October 8, 1921, which was also the first official Sweetest Day.
This day was made for anyone that wants to show their appreciation to the people around them. They show this by giving gifts, candy, flowers, or cards to family, friends, or to their boyfriend/girlfriend.
Sweetest Day is best known as a holiday similar to Valentine's Day, but for everyone. It is like Valentine's Day because people celebrate through the giving of candy, flowers, and cards; expect that on Valentine's Day people give these gifts to their loved ones.
Sweetest Day was planned by a committee 12 confectioners (candy makers). On October 8, 1921, they distributed 20,000 boxes of candy to newsboys, orphans, elderly, and the poor.
Although Cleveland had already started celebrating this holiday, it wasn't till 1922 that New York City attempted to start Sweetest Day. This also led to a declaration of a Candy Day. The New York Times reported that "The National Confectioners Association had started a movement throughout the candy industry to make Sweetest Day nationally known."
Here at East Leyden, the tradition of Sweetest Day continues as the Junior Class Board will be delivering the carnations this Friday during period 2.