New TSI Class Provides Students With Certification Opportunities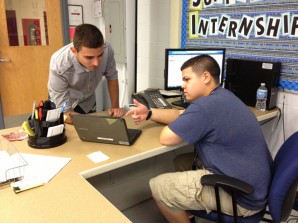 Przemek Gradzki
Przemek Gradzki , Staff Writer
October 6, 2012
Filed under School News
This school year Leyden has introduced a Tech Support Internship class that works to solve all the technology problems as well as chromebooks problems that teachers and students face.
TSI isn't like a regular class; most students think of this as a job.
"It doesn't really feel like a normal class because we never have homework, there is no bulky textbook you have to carry around, and there are only 5-7 students in a class," senior Bill Kralis said.
The students gain computer hardware and software troubleshooting skills and many other skills that can benefit them in the future.
East TSI teacher Mr. Adam Labriola added that the class also will "Build confidence, real world experience and social skills."
Students benefit from this class because they have the opportunity to become certified. TSI offers a wide range of pathways that students can choose from, including: Google Apps Certification, Internet Computing Certification (IC3), CompTia A+ and much more.
But these certification pathways are difficult and shouldn't be taken carelessly.
"The google apps certification test was very difficult", senior Bill Kralis said.
Senior Zaid Alaraj agreed and added that, "in the beginning, the App development was easy, but as time goes on it is difficult to understand what they are talking about without stopping and looking it up first."
When students are not centered and working on their certifications, they are either helping students with issues they are facing with their chromebooks or going out to classrooms and helping teachers with their technology problems.
Along with regular computers malfunctions there are some unusual chromebook problems that students come in with.
"One kid came in and said he threw away his chromebook case because he spilled pop on it," Kralis said. So the student was told to either find the chromebook case or he would have to purchase a new one.
"Another person had inappropriate pictures pop up on his screen" he added. "But other than those, all the other ones are normal problems."
Teachers and students that come across any technological problems could call or come into TSI to receive help.