A Princess Perfect Love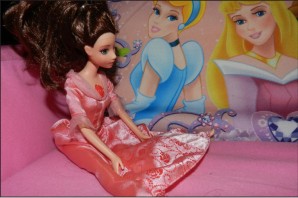 Amanda Marrero
Mackenzie LeDuc, Staff Reporter
May 10, 2012
Filed under Columns, Opinions
I'm wishing for the one I love to find me today, I'm hoping and I'm dreaming of the nice things he'll say," Snow White sings to me through the television. And with nothing but my spoon and chocolate Moose Tracks to comfort me, I whisper back, "You and me both; you and me both." If I feel a connection with her views about love, it's because they're the same ones presented by all of Disney's princesses.
Yet the happily ever afters of Jasmine, Ariel, Rapunzel, and the rest make for a sad state for female equality. Girl sees boy; girl falls in love; girl gets into trouble; boy rescues girl; and girl rewards him with the kiss. Rinse, repeat, etc.
Junior Jessica Kosik doesn't see "what exactly is happy about the ever after," adding that women don't need to be rescued. If anything, she adds, men depend on women.
But as Disney presents it, Snow White would still be in a coma, Cinderella would be mopping floors and talking to mice, and Sleeping Beauty would be catching up on her beauty rest if it weren't for their charming princes.
Researchers have identified that in Disney films, "Females tend to be depicted as more attractive, happier, more sociable, more peaceful, and more useful, while males tend to be represented as smarter, more rationale, more powerful, more stable, and more tolerant."
How much influence does watching a few movies really have? Not much, but Disney is a marketing machine. Writer Peggy Orenstein voices Disney's goal with every movie: "Let's establish standards and a color palette and talk to licensees and get as much product out there as we possibly can that allows these girls to do what they're doing anyway: projecting themselves into the characters."
All this projection can lead to a real let down when it's time for real life. Take Disney's standard for falling in love: "The majority of couples fall in love at first sight and 'live happily ever after.' These images encourage an expectation for relationships that is unrealistic, as couples do not tend to live happily ever after without effort from both partners. Images of love at first sight in the films encourage the belief that physical appearance is the most important thing when entering an intimate relationship."
By training generations of princesses, Disney has created a number of evil step sisters. Walt Disney once said, "I always like to look on the optimistic side of life, but I am realistic enough to know that life is a complex matter."
He was a wise man. I just wish he could have created some wise women.