Grading Emery: Bears New GM Shakes up Lineup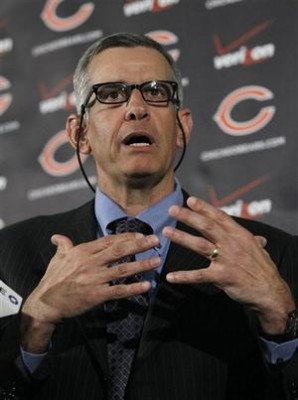 Associated Press
Joaquin Cardenas
March 9, 2012
Filed under Professional Sports, Sports
The Chicago Bears have signed Phil Emery as the new General Manager of the organization. Emery has a total of 31 years of football experience. He was the director of college scouting for the Kansas City Chiefs, and has especially proven his expertise in drafting players when he worked for the Atlanta Falcons, being a key role in drafting Roddy White and Matt Ryan. His experience is a very important part of his resume because the bears have not been able to pick an a truly game-changing player from the draft since the 2006 Super Bowl season. He had worked with the Bears from 1998-2004, drafting Brian Urlacher, Charles Tillman, and Lance Briggs, all pro bowl-ers. The draft is very important because it is the quickest way to acquire impact players to get the team back on track, but it is also the quickest way to destroy a team if the wrong players are chosen. Emery will meet with head coach Lovie Smith to evaluate the roster and discuss the free agency which begins March 13. The Bears, who have four picks in the first three rounds in the draft this year, may be looking to acquire a few new faces.
The Bears have acquired Brandon Marshall in return for a few undisclosed draft picks. Marshall and cutler will play together again after playing with each other for 3 seasons in Denver. The two developed in Pro-Bowlers while they were together.Some think that a consistent wide receiver was needed to complete the team and Brandon Marshall you could say is consistent with him having five years of more than 1,00 yards receiving each year.
The Bears needed an elite wide receiver, so they traded for Brandon Marshall. But they also needed receiving depth and Wednesday they accomplished that by signing Devin Thomas to a one-year contract. The ex-Giant is now a member of the Bears
Emery has already made a positive impact for the Bears in their journey for a Super Bowl ring.