Varsity Football: Key Game Against Willowbrook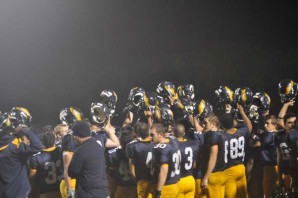 Dominick Sarno
Dominick Sarno, Staff Writer
October 5, 2012
Filed under Local Sports
The varsity football team will face off against the Willowbrook Warriors today at 7:30 at Willowbrook High School. This game will decide which team, either the Willowbrook Warriors or the Leyden Eagles, will make it to conference, so everything is on the line.
This will be one of the most intense games this year because Willowbrook has the same record, 5-1, as the Leyden Eagles.
Last season Willowbrook had zero wins, ending the season with 0-9 record. Since then, Willowbrook has made some major changes to their coaching staff which has had a positive effect on their varsity team and football program.
Coach Tony Zitzka conceded that, "this is not going to be a one sided game."
Last year's game against Willowbrook ended with a score of 31-0 in favor of Leyden.
Senior and offensive lineman Tim Hester, is confident yet admits that "this is going to be a close game. They have improved their coaching staff, and they have a good defense and offensive lines."
Coach Zitzka agreed and added "that he looks forward to facing Willowbrook every year, but this year the stakes are a little higher."
Follow the link below for live online coverage of tonight's game:
http://www.highschoolcube.com/event/leyden-at-willowbrook-high-school-football-301557