Make a Difference Day is Making It's Way Over to East Leyden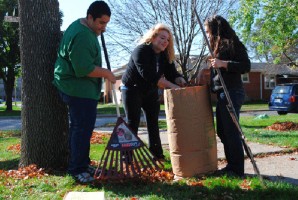 Dominic Manola
Jessica Dreyer, Staff Writer
October 12, 2012
Filed under School News
Make a Difference Day is on October 20th, and East Leyden is contributing by doing multiple projects around the Leyden area to benefit the community.
USA Weekend, a national weekend newspaper magazine, created Make A Difference Day in 1992, and it takes place on the fourth Saturday of every October. It grew into the largest community service effort in the nation. It engages corporations, government leaders, charitable organizations, and everyday people to come together to benefit others in one day.
"It is a national service to get as many people involved in the community as possible," said Dominic Manola, Student Activities Director at East Leyden.
East Leyden High School has been participating in Make a Difference Day for 3 years now because "it's cool to actually get our students out in our community and see the affect they have by doing it," Mr. Manola explained.
Key club was the first to engage in Make a Difference Day from East Leyden, but when Mr. Manola became Student Activities Director, he "thought it was a good idea to get more people from Leyden involved," Mr. Manola remarked.
More than 11 clubs from East Leyden are helping out this year through various service projects such as participating in a food drive in Leyden Township, hosting bingo at Villa Scalabrini in Northlake, helping the elderly at Elmwood Cares, doing yard work for local senior citizens, and even a cereal drive in Rosemont.
The Make a Difference Day activities are decided by "the activities office with our partnerships, and we talk to clubs about what would be good and what interests them," Mr. Manola said.
If students or faculty and staff are not involved in a club that is participating in Make a Difference Day yet would like to get involved Mr. Manola encourages people to "keep your ears open and listen to the announcements. You can stop by the activities office, or send me an email anytime with questions."