Varsity Football Interview Will Air at 8:30 p.m.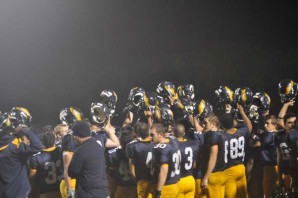 Dominick Sarno, Staff Writer
October 17, 2012
Filed under Local Sports, Top Stories
Coach Cerasani, along with four varsity players, were interviewed about their fantastic season with their 7-2 record and recent conference title in the West Suburban Gold Conference which will air on October 25th at 8:30 p.m.
The show they're going to be interviewed on is called "The Don of Sports".The host of this show is Don Figarelli, a Leyden alum. The channel is 19 for Comcast and for ATT-U-Verse it is channel 99, or you can view it on your chromebooks at www.AddisonAdvantage.org.
Tune in and support our football team.