Legendary Leyden Coach Passes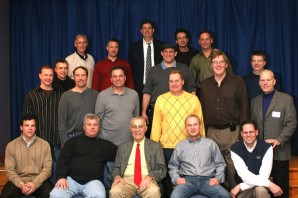 Courtesy of Mr. Marten
Eric Jennings, Staff Writer
October 24, 2012
Filed under School News, Top Stories
A 548-185 record over the course of 29 years. A .748 winning percentage for his career. 104 of 108 games won during the 1974-78 seasons. Coach Norm Goodman, who passed away on October 3rd at the age of 79, is undoubtedly the greatest basketball coach Leyden has ever had, and is possibly the greatest coach in high school basketball's history.
Throughout his coaching career, Coach Goodman produced many talents that went on to become successful, including NBA players and executives, and even Leyden teachers.
Mr. Steven Siekierski, math teacher at West Leyden, played for Goodman in the late 1980s.
"Growing up you always heard about Coach Goodman. I would go to his summer camps as a little boy. When I got to high school I was fortunate enough that I played for him."
Siekierski, who graduated the year before Coach Goodman retired from Leyden, reunited with his former coach and mentor on the basketball court three years later, this time playing on the opposite team.
"I played for Rockford College and Coach [Goodman] went to Lake Forest College after he left Leyden. Even though he wasn't my coach anymore, as an athlete I always wanted to perform well for myself, but I also wanted to have the coach be proud of me."
Goodman, who was a Marine before becoming a basketball coach, translated his military demeanor into his style of coaching.
"His style of coaching where it was his way or the highway worked. Kids did what he said and it was the right way to do it. We may not have been the most talented players while we were at Leyden, but he got us to play as a team," Siekierski explained.
The reason why Coach Goodman was so successful can be attributed to this style of game planning and knowledge of the game, but his work ethic was also a huge factor.
"We would never see his preparation – him watching game film and scouting teams. You would just show up to practice and he would have the game plan ready. He didn't waste minutes in practice," Siekierski revealed. "There's some coaches who spend hours practicing and not get much accomplished, whereas Coach Goodman's practices were two to two and a half hours, but every drill was purposeful."
Long-time former head baseball coach Gary Wolf worked as assistant coach to Goodman from 1984 through Goodman's retirement in 1990.
"He always tried to outdo his practice every day to make it that much stronger and make them [the players] more competitive," Wolf said.
Coach Goodman's attitude certainly instilled a sense of fear into his players, but along with it he earned the respect that allowed them to pay attention and learn from him.
"Every time I would see him, from high school to when I saw him before he passed, I first would see coach, then I would see a guy that I'm friends with. He was always coach first,." Mr. Siekierski said.
Coach Wolf added that, "if there's one thing about him that stands out, it's his personality. People loved being around him. He made you feel special."
When asked if Goodman was born with a gift in his basketball expertise, Wolf replied, "For athletes to play that hard for somebody, and be so tough on players at times, and keep coming back day after day, there is a special type of gift. The thing was the players saw the results week after week after all the hard work he put them through."
Despite his high winning percentage, none of Coach Goodman's teams at Leyden won the regional or supersectional. But Siekierski and Wolf both agree that failing to make it downstate never hampered his legendary status.
"As a friend he'll be remembered as someone who would do anything for you," Wolf said. "At school he is really remembered as someone who constantly would get the most out of his players."
"He set a tradition that will never be touched again at this high school," Siekierski added. "Those that played for him know it's not about the wins and losses. He was partly responsible in molding us into who we are. He took boys and turned them into some men."