Leyden Eagles Win Big at Friday's Homecoming Game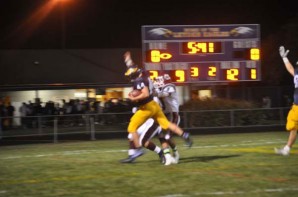 Dominick Sarno
Dominick Sarno, Staff Writer
September 29, 2012
Filed under Local Sports, Uncategorized
Friday night the varsity Leyden Eagles faced off against the Morton Mustangs. Despite an early interception by Morton, the Leyden Eagles came back to win with a final score of 28-0
Captain Mike Smith threw an early touchdown to senior Andrew Vernola, followed by a rushing touchdown by senior Mickey Gulo.
The other two touchdowns were a result of two interceptions by senior Mike Szopinski and senior Ivan Nevarez.
These back to back defensive stands helped lead the Eagles to a crushing win against Morton.
The next game will be against the Willowbrook Warriors on Friday, October 5th at 7:30 p.m. at Willowbrook High School.