World's Greatest Cabaret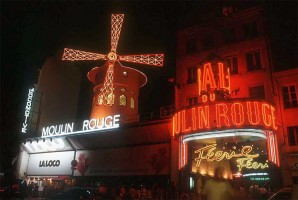 francetourism.com
Natasha Lenart, Staff Reporter
April 25, 2012
Filed under Arts and Entertainment
I fell in love the first time I watched the movie. I even wrote on the mirror in my room, "My life goal is to go to Paris, and go to the Moulin Rouge," and that wish was granted.
My trip to Paris was nothing less than amazing, filled with wonderful memories. Musée du Louvre with the Mona Lisa, the tip top of La Tour Eiffel, the beautiful L'Opéra Bastille,Cathédrale Notre Dame de Paris, the Arc de Triomphe, and Le Procope all infect my memory to this day. Whether it still effects me today because of the beautiful architecture or the fact that Napoleon' Bonaparte's funky-shaped hat was sitting in front of me, I still don't know, but by far, above all, my favorite destination was Moulin Rouge.
For those of you who don't know what it is, or don't know what a cabaret is, it's the French version of 'showgirls.' Harry Ziegler founded it in 1899, featuring the original Cancan. Moulin Rouge translates to "red mill," and it's named so because of its signature red mill above the entrance. A hundred years later, it's a bunch of women dancing around and kicking their legs, topless, or with see-through shirts- and it's absolutely appropriate, though they may overdo it.
Well my experience started on a shaky note. When my mom and I arrived, the line stretched down the street and around the corner. So, we joined the very, very long line, and watched it stretch around the next corner until we could no longer see the end. The only question I thought of was, "Are we all seriously going to fit inside?" However, within a matter of minutes, we were inside, seated, and waiting for the show to start. But not before my mother had her camera confiscated- the coat room should have been called the confiscated-camera room, seeing as there were probably 40 more cameras sitting on the shelves or hanging on a hook. Sitting comfortably, the lights dimmed, and the greatest show on Earth commenced.
It was breathtaking. Sparkles + glitter + lights + color + a girl swimming-with-a-snake-in a-tank-of-water-that-arose-from-under-the-stage = awesome! It was a good show, they even danced the old-fashioned Cancan! Their outfits were beautiful, all encrusted in various jewels. Their dancing was, well, not what I expected. There was a Russian gymnast, but that's the best 'dancing' the show offered. Either way, I think I was still high on the adrenaline from the realization that I'm actually sitting at the Moulin Rouge, and the outfits were absolutely outstanding.
When the show ended, my mom and I bought a few souvenirs, a Moulin Rouge encrusted tote, a shirt, some key chains, and I also bought some pencils, that instead of an eraser, had red jewels (and they're my favorite pencils ever on the face of the planet)! But, it was all downhill from there.
It started when we couldn't find a cab back to the hotel, then, because of construction, there was no way to actually access the hotel by car, so we got lost, and then we were driving in circles trying to get somewhere, and then there was the almost-picking-up-some-random-stranger to give us directions, then there was my panic attack that we were going to be kidnapped, or killed, when the taxi driver went bzerk on us, then there was finding some hotel and walking back to the hotel using some weird rooftop walkway, but we got to the hotel, finally, at 3 AM, and went to bed, after watching the greatest cabaret in the world.